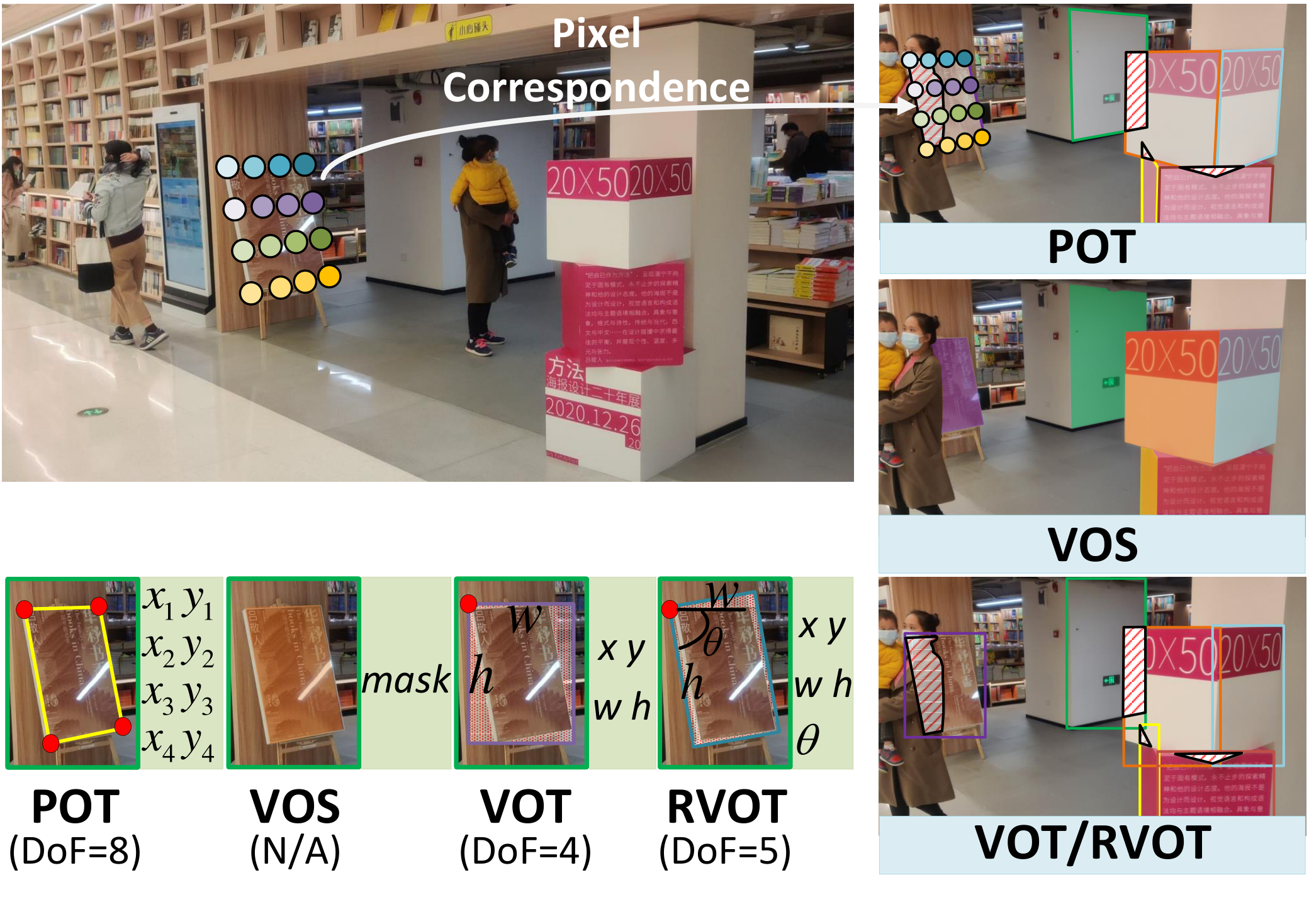 Given an image (a), we present the ground truth for different tasks in (b). The corresponding Degree-of-Freedom (DoF) is reported at the bottom and the details are listed on the right side of each task. In (c), we show the tracking results for box-based tasks (e.g., VOT, RVOT), mask-based tasks (e.g., VOS), and POT, which can find the occluded regions (marked by the red line area) and provide pixel-to-pixel matching correspondence (colored points across frames).
Challenge 1: High Degree of Freedom
Tracking planar objects is of greater Degree-of-Freedom (DoF). As shown in Fig.1 (b) MPOT tracks both the pose and location of the target, which is described by an arbitrary quadrangle (i.e., four independent vertexes (x1,y1,x2,y2,x3,y3,x4,y4)), whose DoF is 8. In contrast, it only needs to predict the position and size of an object (x,y,w,h) in video object tracking (VOT), and rotated VOT (RVOT) additionally requires the rotation angle. Even compared with video object segmentation (VOS), an alternative that introduces mask at the pixel level, MPOT is a more challenging task. Because MPOT provides the matched correspondence for each pixel within the object region across frames (e.g., colored points in Fig.1 (a)\&(c)), which makes it possible for applications that require positional information like texture mapping. And VOS that tracks the target area instead of per-pixel location can hardly achieve it.
Challenge 2: Occlusion
Except for the one in POT that manually occludes the camera, MPOT introduces the occlusion raised by the layered position of multiple targets relative to the camera (see Fig.1 (c)). Besides, the occlusion is more complex than the ones in multiple object tracking (MOT). When occlusion occurs, MPOT estimates the pixel correspondence controlled by homography matrix, which tends to be sensitive and have a high condition number that can reach up to 5e7. That means, even with the tiny movement of the invisible part, it is of huge difficulty for tracking.